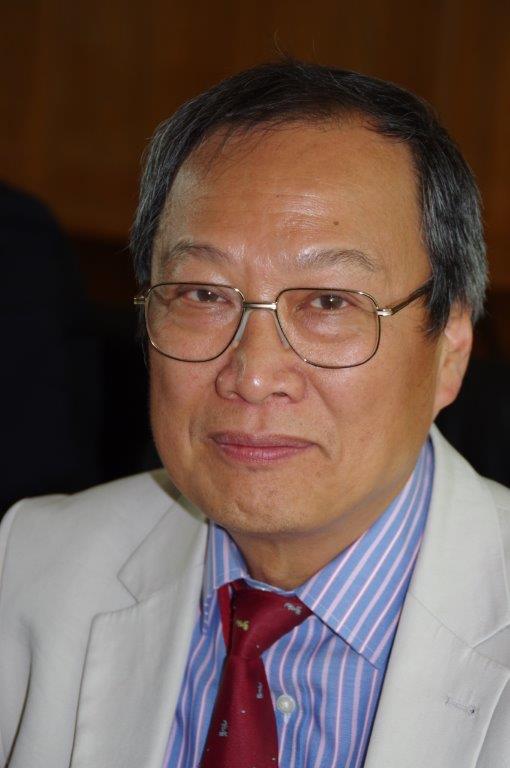 Samuel N.C. Lieu, President of the International Union of Academies and a Bye Fellow, Robinson College, Cambridge

About the Author
Emeritus Professor Samuel N.C. Lieu is the current President of the International Union of Academies and a Bye Fellow of Robinson College, Cambridge. He is also a Professorial Visiting Associate at the Study of Religions at SOAS. Until 2016 he was Inaugural Distinguished Professor of Ancient History at Macquarie University, Sydney, Australia and until 1996, Professor of Ancient History and Classical Civilisation at Warwick University, UK. He is a Fellow of the Australian Academy of the Humanities and a Fellow of the Royal Society of New South Wales and has since 1992 been director of the UNESCO-sponsored Corpus Fontium Manichaeorum Project. He has published extensively on the History of Manichaeism and on the Christian texts and inscriptions from the Silk Road. He is also currently engaged in a series of research publication projects on the onomastic and topographical history of the Thracian Chersonese (Gallipoli Peninsula) in the Byzantine period. 
The Union Académque Internationale (International Union of Academies) is an international alliance of national academies in the fields of the humanities and the social sciences. Founded in Paris in 1919 with a general secretariat based in Brussels, the UAI currently has a membership of more than a hundred academies and learned societies from 63 countries and from all continents. Its basic aims are to initiate, promote, foster and part-fund long-term international research projects in the Humanities and Social Sciences. Recognizing that many substantial projects in these areas cannot be completed within a short time span, the UAI prides itself in its willingness to support significant long-term projects. The UAI has already sponsored the publication of more than 3,000 books many of them in well-known series.  Many of these series provide research scholars with fundamental reference tools such as dictionaries, encyclopedias, and critical text editions, some of which are now disseminated through the Internet. The UAI is constantly adopting and launching new international projects; recent ones include the 'Transformation of Mediterranean Cities Throughout History' and 'China and the Mediterranean World'. Projects adopted by the UAI are premised on close cooperation among several national academies. In order to achieve its aims, the UAI relies on funding from private and public sources as well as the annual subscription fees paid by Member-Academies and organizations that are Associate Members of the UAI. 
The UAI constantly advocates for a well-defined and central role for the humanities and the social sciences in a changing world through international research collaboration. 
The mission statement of Union Académique Internationale:
(1) to encourage cooperation between national Academies (and comparable institutions) whose activities are mainly or partly concerned with the field of human and social sciences. This cooperation is achieved through establishing cutting edge research projects of the highest scholarly and intellectual standard and through coordinating interdisciplinary and joint activities, conceived in full partnership, over the long and medium-term. These efforts have resulted in the production of fundamental reference tools that enhance the knowledge and advance funda­mental research, for the benefit of both the people involved in the research and the general public.
(2) to safeguard and promote the status of human and social sciences at the level of both national academies and international academic bodies.
(3) to develop strong support for every national academy and its fellows to persuade and convince those in authority of the rightfulness and advantages of this strong international cooperation.
To achieve its mission, the UAI endeavours to:
(1) to increase the level of inter-academy cooperation by increasing the number of projects which it will adopt or initiate.
(2) to encourage as many national organizations and learned societies active in research on human and social sciences to become members of the UAI and to develop and cooperate in scholarly projects of a high standard as recognized internationally.
(3) to represent at the international level jointly and in a pro-active manner, directly or indirectly (in partnership with supranational and or non-governmental organizations) both the academies themselves and their fundamental principles of excellence.
To fulfil its mission and to carry out its vision, the UAI has the following objectives:         
(i) to implement and monitor the progress of current projects and to help strengthen their relevance in a positive and critical way; to synthesize and to make available their main results to the Member Academies.
(ii) to set up a strategic plan that will consider the dissemination of information to be essential in the new information age — a plan that will facilitate the sharing of knowledge and the spread of information that will be updated through periodic assessments and revisions.
(iii) to constantly update the functioning of the UAI's governance and management bodies (General Assembly, Bureau, General Secretariat) and to develop an effective image by a critical reassessment of its communication tools (website, Bulletin, periodical…)
(iv) to increase its financial means and the funds made available for projects by seeking partnerships with international public or private foundations.
(v) to encourage member academies to participate more actively in current projects and to set up new interdisciplinary and internationally oriented projects.
(vi) to strengthen its presence and its participation in international organizations (UN, UNESCO, EU, ICPHS in particular) by increasing its visibility in these venues, utilizing its accumulated knowledge and that of its members, and emphasizing its links with the global communications set up by them.
The role of the UAI as a guarantor of standards in international grant applications in the traditional Humanities:
By the end of the twentieth century, the UAI has established itself as a impartial and independent guarantor of excellence for research projects in the following areas of the traditional Humanities:
(1) Classical and Medieval Philology and Lexicography
(2) Greek and Roman Archaeology, Art History and Cartography
(3) Epigraphy and Papyrology
(4) Numismatics
(5) Medieval Philosophy
(6) Humanist writings (esp. collected works of scholars like Dantisticus, Voltaire and Hevelius)
(7) History of Art
(8) Asian Studies involving the study of older languages such as Babylonian, Assyrian, Punic, Classical Arabic, Old and Middle Persian and Sanskrit
(9) Comparative Literature and Translation Studies
 The relative abundance of research funding through both national and international research councils in the decades after the Second World War has provided the UAI with a new and major role as evaluator and guarantor of high standards in collaborative research in the traditional humanities. By the 1970s, UAI has developed a formidable reputation for its strict expert-driven system of project evaluation. For a project to be adopted by the UAI, the project directors will have to submit the project first to at least one national academy for approval and once this has been given, they will need to find partner academies to co-sponsor the project. The project is then submitted to the New Projects Committee of he UAI. The latter will appoint expert assessors to scrutinize every aspect of the application. Given the fact that all delegates to the UAI are academicians in the countries which they represent, experts in most fields of the Humanities are not difficult to find to conduct the evaluation. Newly proposed UAI projects have to meet very strict criteria in methodology, technical competence, innovation and long-term viability before they can be recommended for adoption. It is not unusual for a project to be subjected to a period of probation of up to two years before formal adoption. Once adopted, the project is entitled to apply to the UAI for publication subsidies or small grants to enable national or international editorial meetings to be convened. It is a requirement for projects to submit to the UAI Secretariat all works published under the aegis of the UAI.  Project-directors have to submit an annual (now biannual) report on progress and once every five years (now six years) the project is subjected to a major review. The Quinquennial (now Sexennial) Evaluation is a serious process involving distinguished external reviewers who are encouraged to read the publications of the project and to submit lengthy reports based on their thorough examination of the output of the project. The project directors are normally required to be present at the General Assembly when the Quinquennial / Sexennial reports on their projects are discussed by the assembled delegates in order to be available for questions raised by the reports — each project would usually receive a minimum of three reports. The delegates to the General Assembly would then recommend a grade based on the reports and discussions. The highest grade 'Felicitations / Congratulations' is a major desideratum as it is often regarded by grant-giving bodies as a 'kite mark of excellence'. Such as through system of evaluation relying heavily on the expertise and willingness of delegates and project-leaders to act as evaluators gratis, is virtually unrivalled among international organizations. Major international grant-giving bodies and national academies which are also grant-giving bodies are often highly appreciative of this independent and highly critical system of evaluation and approbation of their academy-sponsored projects. UAI projects with high ratings are often successful in grant-applications to national academies and to national and international research councils.
 Some exemplary series-publications sponsored and evaluated by the UAI:
 Corpus Vasorum Antiquorun – CVA (Proj. 1, adopted 1922):
http://www.uai-iua.org/en/projects/1/corpus-vasorum-antiquorum-cva
 Tabula Imperii Romani – TIR (Proj. 6, adopted 1928 and 1957)
http://www.uai-iua.org/en/projects/6/tabula-imperii-romani-tir
 Aristoteles Latinus (Proj. 9.2, adopted 1929)
http://www.brepolis.net/pdf/Brepolis_ALD_EN.pdf
http://www.uai-iua.org/en/projects/85/aristoteles-latinus-corpus-philosophorum-medii-aevi
 Corpus Vitrearum Medii Aevi – CVMA (Proj. 16, adopted 1956)
http://www.cvma.ac.uk/index.html
http://www.uai-iua.org/en/projects/19/corpus-vitrearum
 Fontes Historiae Africanane – FHA (Proj. 22, adopted 1964
https://www.fonteshistoriaeafricanae.co.uk
http://www.uai-iua.org/en/projects/25/fontes-historiae-africanae-fha
 Sylloge Nummorum Graecorum – SNG (Proj. 26, adopted 1969)
http://www.sylloge-nummorum-graecorum.org
http://www.uai-iua.org/en/projects/29/sylloge-nummorum-graecorum-sng
 Complete Works of Voltaire / Œuvres complètes de Voltaire (Proj. 34, adopted 1978)
https://en.wikipedia.org/wiki/Complete_Works_of_Voltaire
http://www.uai-iua.org/en/projects/37/complete-works-of-voltaire
 Hobogirin – Dictionaire du Bouddhisme d'après les sources chinoises et japonaises (Proj. 69, adopted 2005)
https://archive.org/details/hbgirindictionna0103lvuoft
http://www.uai-iua.org/en/projects/75/hobogirin